The Autonomy of the Family as an Obstacle in Preventing and Identifying Assault of Children
Kerstin Nordlöf

School of Law, Psychology and Social Work, Örebro University
Abstrakt
RESEARCH OBJECTIVE: The purpose of this article is to investigate whether the protection of the child has been considered sufficiently compared with the interests of the autonomy of the family within Swedish legislation.
THE RESEARCH PROBLEM AND METHODS: The autonomy of the family is well protected by the European Convention for the Protection of Human Rights and Fundamental Freedoms in Article 8, where the right to family life is stipulated. But the article also authorises the right of a public authority to interfere in family life in accordance with the law for the prevention of crime. One reason for such interference could be the suspicion of domestic violence, which for centuries was considered to be a private concern. Article 3 of the Convention also forbids exposing a person to torture, inhuman or degrading treatment or punishment. The rights of the family are also expressed in the Convention on the Rights of the Child (Article 16), but more specifically in its view of the child. In the case of domestic violence, the Convention in Article 19 clarifies the responsibility of signatory states to protect the child from all kinds of assault by measures such as prevention and identification.
THE PROCESS OF ARGUMENTATION: Due to the fact that domestic violence exists to such an extent that it severely affects society in different ways, Swedish legislation has been modified on several occasions.
RESEARCH RESULTS: Even if the aim of those changes has been to uphold the autonomy of the family while preventing and identifying assaults within the family – particularly where children are involved – the question remains whether the protection of the child has been considered sufficiently compared with the interests of the autonomy of the family.
CONCLUSIONS, INNOVATIONS AND RECOMMENDATIONS: In order to guarantee children a childhood and adolescence consisting of care, security and a good upbringing, further improvements – particularly within the Penal Code (1962:700) – are necessary to prevent and identify domestic violence against children.
Bibliografia
Legislations
The Act (1920:407) on children born within marriage.
The Act (1999: 997) on special representative for children.
The Cohabitees Act (2003:376).
The Decree on Preliminary Investigations (1947:948).
The Education Act of 1882.
The Marriage Code (1987:230).
The Parental Code (1949:381).
The Penal Code of 1864.
The Penal Code (1962:700).
The Social Service Act (2001:453).
The government's proposals
Prop. 1966:96 med förslag till lag om ändrad lydelse av 6 kap. 3 § och 15 kap. 14
§ föräldrabalken m.m.
Prop. 1978/79:67 om förbud mot aga.
Prop. 1998/99:133 Särskild företrädare för barn.
Prop. 2002/03:53 Stärkt skydd för barn i utsatta situationer m.m.
.
Prop. 2012/13:10 Stärkt stöd och skydd för barn och unga.
The government's official investigations
SOU 1978:10 Barnets rätt 1. Om förbud mot aga.
SOU 1997:116 Barns Bästa i främsta rummet. FN:s konvention om barnets rättigheter i Sverige.
SOU 1998:31 Det gäller livet – vård och stöd till barn och ungdomar med psykiska
problem.
SOU 2000:42 Barnmisshandel − Polisens och åklagarnas handläggningstider och arbetsmetoder.
SOU 2001:18 Barn och misshandel. En rapport om kroppsbestraffning och annan misshandel i Sverige i slutet av 1900-talet.
SOU 2001:72 Barnmisshandel – Att förebygga och åtgärda.
SOU 2014:49 Våld i nära relationer – en folkhälsofråga.
SOU 2016:19 Barnkonventionen blir svenska lag.
Directives from the government
Dir 1998:105
Cases of the Supreme Court
NJA 2004, p. 417
Cases of the European Court of Human Rights
A. against Croatia, 14.10.2010.
A. against the United Kingdom
E.S. at al. against Slovakia, 15.09.2009.
Hajduová against Slovakia, 30.11.2010.
M. and C. against Rumania, 27.09.2011.
Marckx against Belgium, 13.06.1979.
Schalk and Kopf against Austria, 24.06.2010.
X and Y against the Netherlands, 26.03.1985.
Decision and Reports of the European Commission of Human Rights
Application no 8811/79 – DR No 29.
International Conventions
The Convention on the Rights of the Child, 1989.
The Declaration of Basic Principles of Justice for Victims of Crime and Abuse of
Power A/RES/40/34.
The Declaration of Rights of the Child, 1959, Resolution 1386.
The European Convention for the Protection of Human Rights and Fundamental Freedoms, 1950.
Directives.
Directive 2012/29/EU of the European parliament and of the Council of 25 October 2012.
Literature
Landberg, Å. & Svedin, C.G. (2013). Inuti ett Barnahus. En kvalitetsgranskning av 23 svenska verksamheter, A quality review of 23 Swedish Barnahus. Rädda Barnen.
Parkes, A. & Santos Pais, M. (1997). Children and International Human Rights Law: The Right of the Child to be Heard. Geneva: United Nations.
Sandén, Å. (1996). Barn och aga. En undersökning om vuxnas och högstadieelevers inställning, erfarenheter och kunskap. Statistiska centralbyrån, Demografiska rapporter 1996:1.1. Örebro.
Other materials
Diagnostic and Statistical Manual of Mental Disorders, Fourth Edition. Washington,
DC, American Psychiatric Association. 1994.
Ds 2004:56 Barnet i brottets skugga.
RÅ Handbok, Utvecklingscentrum Göteborg, February 2012, 2016.
S2012/275/FST
SoS 1998, stencil.
SoS-rapport 1994:4.
SoS-rapport 1998:4.
Statistics of supporting services by the Children's Rights in Society 2014/2015.
http://www.barnafrid.se/om-oss/2017-03-06.
https://www.bra.se/bra/brott-och-statistik/statistik/anmalda-brott.html. 2017-02-26.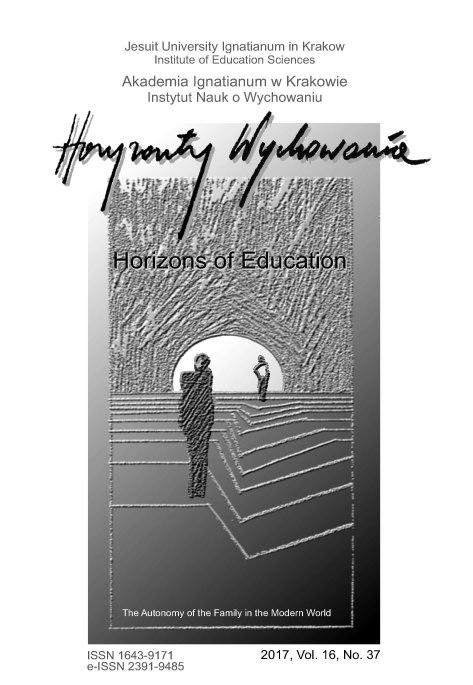 Jak cytować
Nordlöf, K. (2017). The Autonomy of the Family as an Obstacle in Preventing and Identifying Assault of Children. Horyzonty Wychowania, 16(37), 45-58. Pobrano z https://horyzontywychowania.ignatianum.edu.pl/HW/article/view/1252
Dział
Vol.16, No.37 (2017): The Authonomy of the Family in the Modern World
Copyright (c) 2017 Horyzonty Wychowania
Utwór dostępny jest na licencji Creative Commons Uznanie autorstwa – Użycie niekomercyjne – Bez utworów zależnych 4.0 Międzynarodowe.
Uwagi dotyczące praw autorskich
Autorzy publikujący w tym czasopiśmie wyrażają zgodę na następując warunki:
Autorzy zachowują prawa autorskie, przyznając czasopismu prawo do pierwszej publikacji swojego tekstu jednocześnie zarejestrowanego pod numerem licencji CC BY-ND, która pozwala innym na korzystanie z tego tekstu z uznaniem autorstwa tekstu oraz pierwotnej publikacji w tym czasopiśmie.
Autorzy proszeni są o nawiązywanie odrębnych, dodatkowych porozumień wynikających z umowy, dotyczących dystrybucji opublikowanej w czasopiśmie wersji tekstu nie na prawach wyłączności (np. opublikowanie go w repozytorium instytucji lub w innym czasopiśmie), z potwierdzeniem pierwszej publikacji w tym czasopiśmie.
Wyraża się zgodę i zachęca autorów do publikacji ich tekstu w Internecie (np. w repozytorium instytucji lub na jej stronie internetowej) przed lub podczas procesu składania tekstu jako, że może to prowadzić do korzystnych wymian oraz wcześniejszego i większego cytowania opublikowanego tekstu (Patrz The Effect of Open Access). Zalecamy wykorzystanie dowolnego portalu stowarzyszeń badawczych z niżej wymienionych: